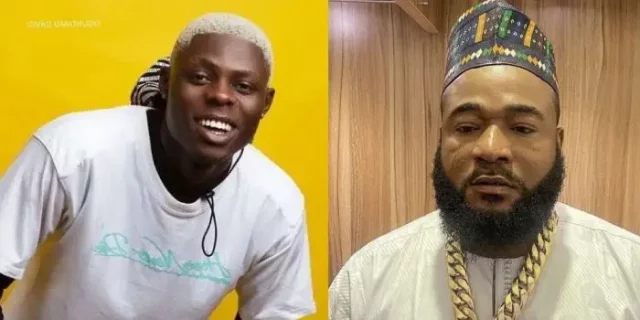 Following his arrival back in Nigeria and subsequent confinement in police custody, Nigerian socialite Sam Larry, whose true identity is Balogun Olamilekan Eletu, has spilled the beans on the motivations behind his harassment and mistreatment of the late singer Mohbad, laying bare the skeletons in his closet.
Mohbad died under controversial circumstances on September 12, 2023.
In a video that went viral after the singer's death, Sam Larry could be seen invading the set of a music shoot and threatening Mohbad with armed men.
Since that time, the resounding calls for Larry's arrest by Nigerians reached a fever pitch, prompting the police to swing into action, by bringing him into their custodial care. Consequently, he has purportedly broken his silence, unfurling his side of the story in a statement.
In his statement, Sam Larry revealed an encounter from two years ago. He claimed to have generously handed over N2 million to Mohbad, expecting him to perform at his mother's annual remembrance concert in Ikorodu. However, the late singer failed to show up, citing illness as an excuse. When Sam Larry inquired about a refund, Mohbad allegedly explained that he had lost both his phone and money during an NDLEA raid.
According to Sam Larry, when Mohbad later expressed his intention to leave Marlian Records, he declared his financial woes and made no commitment to repay the debt.
Sometime later, Sam Larry said he discovered that Mohbad was shooting a music video nearby, alongside Zlatan Ibile. Frustrated, he confronted Mohbad regarding the unpaid sum, resulting in a five-minute argument.
The Socialite said one of Mohbad's friends supposedly pledged to repay the money, but to this day, not a single penny has been returned. This incident took place early last year, and Sam Larry claimed to have moved on since then.
Sam Larry mentioned that he traveled to Kenya in search of a new African act to perform at his mother's concert this year. He clarified that he has been away since August 20th and remains unaware of developments beyond what the media has reported.
He asserted that he doesn't know Mohbad's current residence and is only acquainted with his former label boss and their residence. He denied knowledge of any nurse, doctor, or hospital involved and professed his ignorance of Mohbad's recent movements.
He added that he voluntarily returned to Nigeria to assist with the police investigation and emphasized that he bears no involvement whatsoever, either directly or indirectly, in the musician's tragic demise.circumstances of the musician's death.
His statement reads;
"Two years ago, I gave N2 million to lleri to perform at my mother's annual remembrance concert in lkorodu."
"The boy never turned up, so I called him to ask why. He then said he was not feeling well, and when I asked for a refund, he said he lost his phone and money recently when the NDLEA raided his place."
"Since he was leaving Marlian Records, he claimed he was now broke and had no commitment to repay."
"I left it at that. Later, I heard that this same boy was having a music video shoot next door, practically on the next street to my house. So, I went there to ask for my money again."
"We had an argument that lasted 5 minutes. Even one of his friends insisted he was going to pay the money. Up until today, not one kobo has been repaid, and this incident happened early last year. I have since moved on."
"I traveled to Kenya to find a new African act that can perform at my mother's concert this year. I have been away since August 20th, and till now, I don't know anything other than what was written in the blogs and the press. I don't even know where he lives."
"I only know his former label boss and their house. I don't know any nurse, doctor, or hospital. I don't know anything about his movements. I don't have that time. I have lost a lot more money than that before; you win some, you lose some."
"That is my story, case closed. I came here willingly and happily. I know nothing about how the musician died." – Sam Larry."
SEE SCREENSHOT BELOW